Bridge on the River Kwai (AKA Colonel Bogey)
Mitch Miller Band
6 5 5 -5 6 8 8 7
6 5 5 -5 6 6 -5
5 4 -4 5 -4 6 5 5 -5 5 -4 6 4 -5 4
-6 6 -5 6 -6 6 -5 5 -4 (repeat)
6 5 5 -5 5 6 6 -5
-5 -4 -6 -7 -6 7 6 6 -5 5 -4 -6 4 -3 6 6 4 4 6 6 6 6


Repeat first part:
6 5 5 -5 6 8 8 7
6 5 5 - 5 6 6 -5
5 4 -4 5 -4 6 5 5 -5 5 -4 6 4 -5 4
-6 6 -5 6 -6 6 -5 5 -4
6 5 5 -5 5 6 6 -5
-5 -4 -6 -7 -6 7 6 6 -5 5 -4 -6 4 -3 6 6 and end with 4 4 7
Hitler Has Only Got One Ball
(Sung to the tune of "Colonel Bogey")

Hitler
Has only got one ball,
Goering
Has two, but very small
Himmler
Has something similar,
But poor old Goebbels
Has no balls
At all!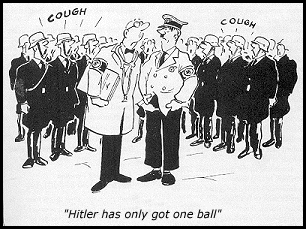 <![if !supportLineBreakNewLine]>

Back to Patriotic Songs Home Page



From

June 30, 2006


From the movie (theme song) Mitch Miller Band

<![endif]>

For more information on this song or artist(s), search the internet...